Wing Seats for the Hobie 16:
---
🆕 SITNSAIL IS BACK TO BUSINESS!
In 2021, SitnSail is back!
The company was on hold since 2009, due to Patrick's health problems. Unfortunately, the illness took him away. We will always thank him for his ingenuity and dedication to SitnSail.
But life must go on! And SitnSail is to good to disappear. That is why we decided to bring back the SitnSail Wings on market.
A new production is launched, for delivery in 2022. This new batch will be available for both consumers and retailers.
Are you interested? Send us an email to [email protected] to reserve yours!
---
Breathe new life into your Hobie 16. No need to buy a Hobie Getaway just to have wings!
Exclusive on the market from SitnSail, are catamaran wings for your Hobie 16. These are like "Wing Seats" that you sit on. They attach to your trampoline frame using our supplied stainless steel bracket hardware. This is a legitimate product made by a Hobie enthusiast for other Hobie enthusiasts to enjoy. They are not available anywhere else, inside or outside of the U.S. We are a new company, SitnSail, and are offering our revolutionary new product for the popular Hobie 16 market. Now you can have a pair on your boat and begin sailing in total comfort, while remaining high and dry!
---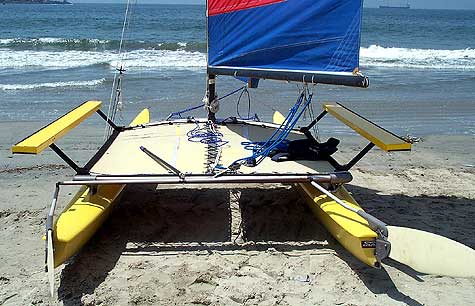 This product was developed over the course of one year...
The inspiration began with a desire to make the Hobie 16 catamaran more comfortable and family oriented. We also had a desire to breathe some extra life into a hobby that had somewhat peaked over the years. We saw significant potential with the popular Hobie 16 cat. Up until now, there has been no other product like SitnSail wings developed exclusively for the Hobie 16.

SitnSail is born from the passion of Patrick, and Raymond,. Both were owner of Hobie 16s and sailed them frequently in the Long Beach harbor in California. In 2021, Nicolas took over the company. Nicolas, from France, is also an engineer and passionate Hobie 16 sailor.

SitnSail wings went through several concept designs and revisions before ultimately becoming the outstanding product that they are today. Patrick has always expressed a desire to transform the Hobie 16 into a more comfortable ride. Sitting on the trampoline for hours can lead to fatigue, sore legs, and backaches for many cat sailors.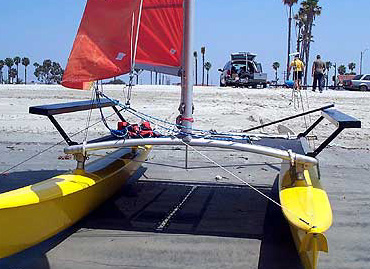 He originally tried many different types of materials and configurations for the wings. Ultimately the decision was made to use reinforced fiberglass for the wing seat because it is flexible, durable, lightweight, and waterproof. For the support arms, we opted for aluminum pipe. Stainless steel was chosen as the material best suited for the mounting hardware, nuts, and bolts. All of these materials are resistant to fresh and salt water. In addition, we decided to coat the wing "seats" using a durable, high-impact vinyl polymer for better adhesion so slipping would not occur while sitting or trapezing. The coating comes in black only. The aluminum support arms are powder coated to resist corrosion. This method is superior to paint. From the beginning, it was Patrick's constant attention to quality and detail give these SitnSail wings a professional quality.
During the testing phase, some problems emerged. We didn't know if trapezing was possible while standing on top of the wings, or if the leeward wing would drag in the water when "Flying the Hull". We had to figure out what the proper "rake" of the wings should be so that no leeward wing dragging would occur while flying high. Also, we needed to design a way to make sure the wings stayed put even if capsizing occurred, which led to our patented design utilizing a hooked-latch assembly to attach the wings directly to the trampoline frame, unlike other "factory" wings which mount directly into the fiberglass hulls causing stress fractures, or "spider webbing" fissures.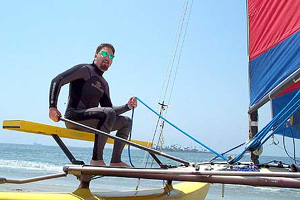 In addition, we discovered that trapezing IS possible while hiking out from our wings. You now trapeze from the side of the wing instead of the trampoline side rail. This puts you higher up and further out in a trapeze harness. Flying a hull takes trapezing to new heights--literally. The added elevation really adds an extreme kick for any Hobie sailor with the resolve to try it. After you've mastered it in an hour or so, you'll never go back to trapezing the old way. The only modification you may need to make is to slightly adjust the height of your trapeze lines. Then you're ready to fly high!

Although trapezing is a thrill, they were designed primarily for a comfortable seating position. Now you can finally have a comfortable ride with the wife or kids, and no more tiring seating positions. I have a pair on my boat, and I love them for leaning, sitting, and trapezeing. These wings are incredibly comfortable while sailing at a fast clip or just cruising the lake or harbor with a friend. Doubling-up is not a problem at all. No longer will you get pains in your knees or backaches from sitting on the trampoline. It makes for a much more inviting, comfortable sailing experience.


In addition to all of this, you can also lean back on them if you wish to sit on the trampoline. It's like having a backrest to lean on with your legs stretched out. During the testing phase we kept finding more and more uses for these wings. We feel like we really came up with rock solid design that will transform your Hobie into a much more satisfying boat and will be more appealing to anybody willing to try them. Give them a try and add yourself to the dozens of other satisfied SitnSail customers.

SitnSail Wings for the Hobie 16....it's about time.